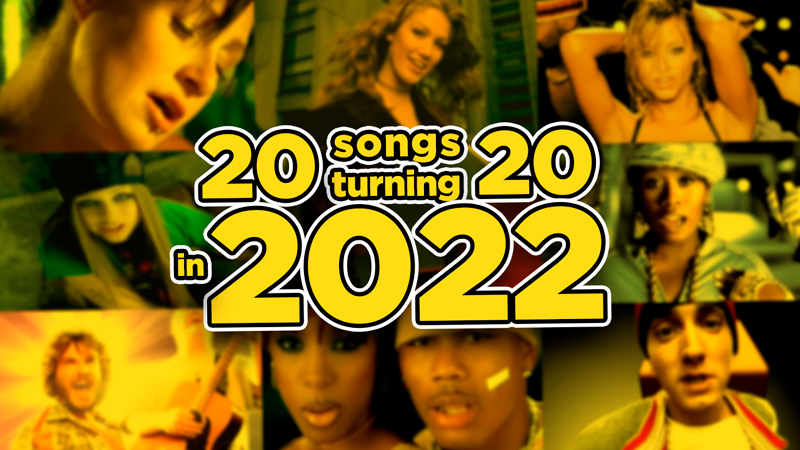 Rewind twenty years and you'll arrive in 2002… In case you didn't feel old enough already, we've gone through the archives and found 20 songs that turn 20 in 2022.
2002 was the year Justin Timberlake and Britney Spears broke up, Michael Jackson caused controversy after dangling his baby from a balcony, movies such as The Lord of the Rings: The Two Towers, Lilo and Stitch, Harry Potter and the Chamber of Secrets, Ice Age and My Big Fat Greek Wedding were released, the iconic TV show Kath & Kim premiered and Steven Bradbury won his famous Gold medal in the Winter Olympics.
The 2002 ARIA Awards saw Kasey Chambers win Album of the Year with "Barricades & Brickwalls" and Kylie Minogue won the ARIA for Single of the Year with "Can't Get You Out of My Head" for the previous year but what songs made their mark on 2002? 2002 was the year Australian songstress Delta Goodrem's music career took off, releasing her first single off her debut album "Innocent Eyes," called, "Born to Try." The song earned her the ARIA Award for Single of The Year in 2003 and starts our list of 20 songs that turn 20 in 2022.
Article continues after this ad
Advertisement
---
1. Born to Try (Delta Goodrem) Released 11 November 2002
---
2. Not Pretty Enough (Kasey Chambers) Released 14 January 2002
---
3. I'm Moving On (Scott Cain) Released May 2002
---
4. Without Me (Eminem) Released May 13, 2002
---
5. Kiss Kiss (Holly Valance) Released 29 April 2002
Article continues after this ad
Advertisement
---
6. A Thousand Miles (Vanessa Carlton) Released February 12, 2002
---
7. Complicated (Avril Lavigne) Released 11 March 2002
---
8. The Ketchup Song (Aserejé) (Las Ketchup) Released 7 October 2002
---
9. Dilemma (Nelly featuring Kelly Rowland) Released June 25, 2002
---
10. Hey Baby (Uhh, Ahh) (DJ Ötzi) Released in Australia February 11, 2002
Article continues after this ad
Advertisement
---
11. Lose Yourself (Eminem) Released October 28, 2002
---
12. Sk8er Boi (Avril Lavigne) Released 9 September 2002
---
13. Girlfriend (*NSYNC featuring Nelly) Released April 15, 2002
---
14. Dance with Me (112) Released in Australia February 11, 2002
---
15. Murder on the Dancefloor (Sophie Ellis-Bextor) Released 11 February 2002
Article continues after this ad
Advertisement
---
16. Hot in Herre (Nelly) Released June 10, 2002
---
17. If Tomorrow Never Comes (Ronan Keating) Released April 29, 2002
---
18. Work It (Missy Elliot) Released November 4, 2002
---
19. Ignition (Remix) (R. Kelly) Released October 22, 2002
---
20. Tribute (Tenacious D) Released June 24, 2002
Article continues after this ad
Advertisement
---
Image Credits: (Youtube)