A1 Batterypro
A1 Batterypro, the big blue building on cemetery road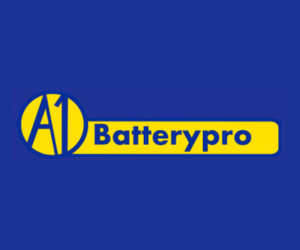 Contact details
Address

7 Cemetery Road, Mackay Qld 4740

Email

Phone

Website
Mon

7am - 5:30pm

Tue

7am - 5:30pm

Wed

7am - 5:30pm

Thu

7am - 5:30pm

Fri

7am - 5pm

Sat

8:30am - 12:30pm

Sun

Closed
A1 Batterypro's diverse sales team specialise in all types of batteries. Our extensive product range includes but is not limited to:
Batteries for cars, 4WDs, trucks, tractors, mining equipment, forklift and motive power, UPS and telecommunications, laptops, mobile phones, cameras, cordless phones, power tools plus many many more!
All auto electrical requirements from alternators, starter motors, dual charging systems, electric brakes, compressors, evaporators, A/C hoses and fittings to battery terminals, lugs, plugs and sockets, LED lights, revolving beacons, Deutsch fittings, resin solder, specialised crimping tools and so much more.
240v battery chargers
Inverters
Solar panels and regulators
Generators
National Luna fridges
Grid connect, stand alone and hybrid solar systems for houses (residential), commercial (businesses), motorhomes and caravans
If we don't stock an item we will source, supply and install (if required) the product in a timely manner.
As a leader in our industry, we also focus on supplying whilst also assisting in educating the region in all areas in our expertise.